Author
Mel's experience of playing music and as a social worker and community development worker in London has enriched his interest in writing about London communities and the social history of popular music.
Articles published:
Musician

As a drummer Mel has spent over forty years gigging. See Blues @ Greece website article.

Working Men's clubs, pubs and sixties & seventies blues club scene. Played at Eel Pie Island, Studio 51, The Marquee, The Flamingo, Les Enfants Terribles, 100 Club.

In the sixties and seventies with Shakey Vick Blues Band, Dynaflow Blues and The Nighthawks we accompanied and supported black American blues legends Son House, Howlin Wolf, Eddie Guitar Burns, Arthur 'Big Boy' Crudup

(BBC TV appearances on Late Night Line Up & Disco 2), Lightnin' Slim, Juke Boy Bonner, Champion Jack Dupree and Curtis Jones. During seventies & eighties with Strike-A-Light theatre rock, folk rock band, Traitors Gait playing festivals, Mess Of Blues, The Flying Chaucers, Jazz Circus with Billy Jenkins, Shakey Vick Blues Band (since 1967), Jimmy Beckley Trio.
Shakey Vick's Big City Blues Band 1967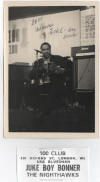 Juke Boy Bonner recording from BBC Sound Of The Sixties.

Recordings include Things Ain't Right- Juke Boy Bonner

, Book Of Changes Ian A Anderson,

I Wish You Would - Brunning Hall Sunflower Blues Band, Blues & Gospel, Key To The Highway - Jo Ann Kelly, Poor Young Willie -

Traitors Gait, The Complete Mess - Mess of Blues, About Time - The Flying Chaucers, Greek Street -

Waydown

,

What Jazz Can Do For Your Life - Jazz Circus with Billy Jenkins & Jazzman John Clarke, Highlife In The Sun - Jimmy Beckley Trio.

Contact

Mel Wright can be contacted by email at Mel Wright