<![if !vml]>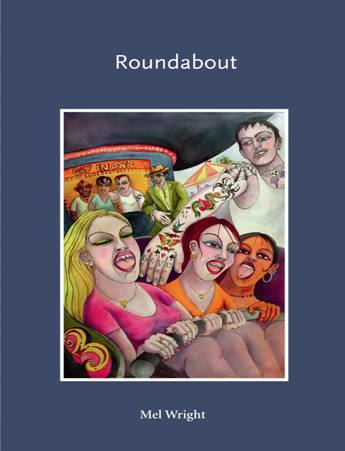 <![endif]>
ROUNDABOUT by Mel Wright
Chris Connelly feels the love with a heart- warming tale of everyday folk fighting against all odds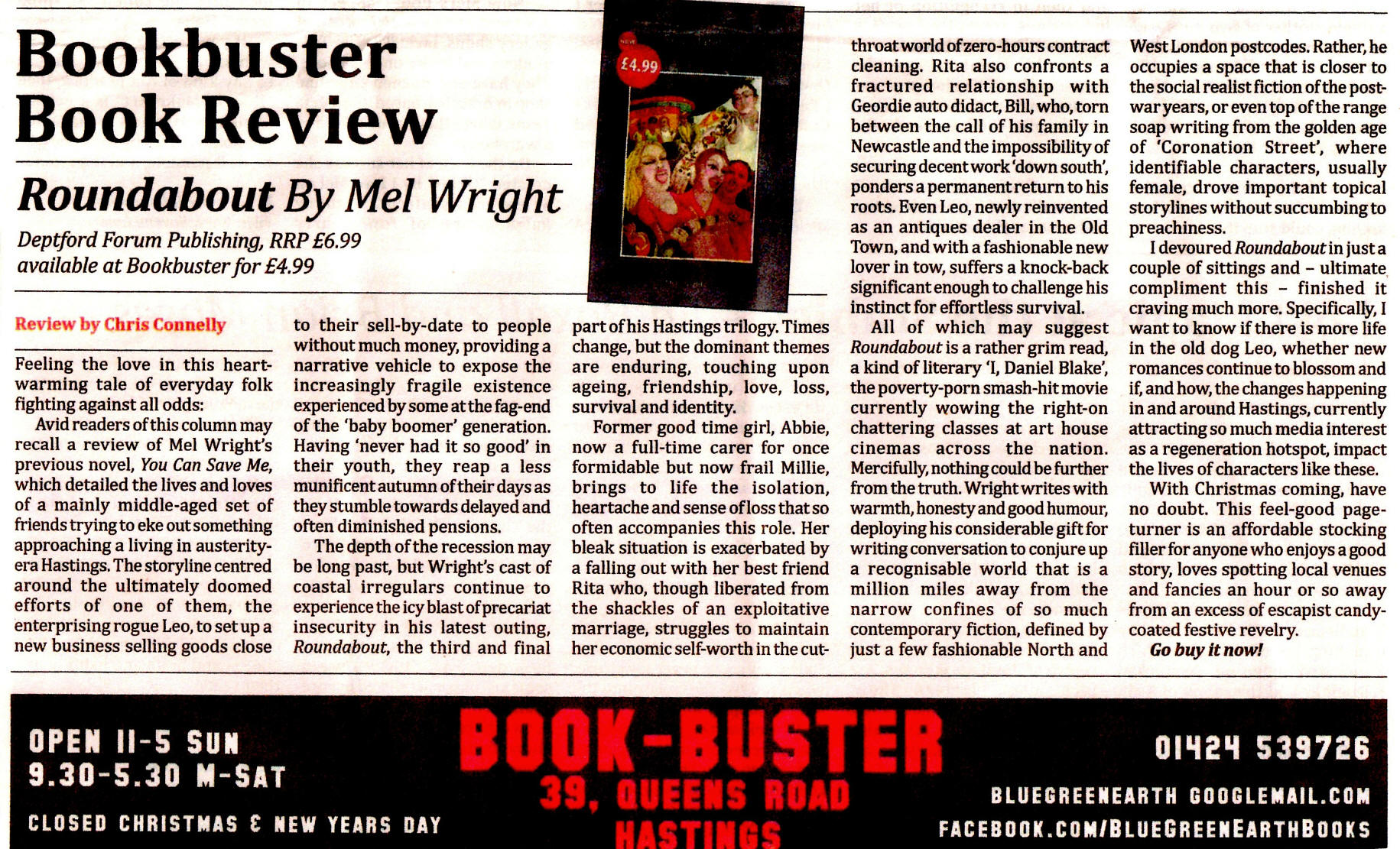 "Hastings Independent Press - 9th December 2016"
Roundabout is available from Book Buster on Queens Road and on Amazon.

You Can Save Me - By Mel Wright
<![if !vml]>
<![endif]>
A continuing seaside caper…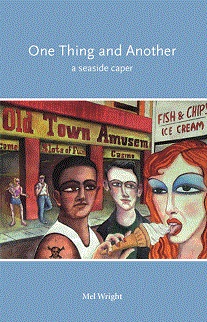 One Thing and Another – a seaside caper
Mel Wright
Published autumn 2012. ISBN 978-1-898536-18-15
Mel Wright's third novel for Deptford Forum Publishing is set in Hastings during 2008. One Thing and Another is a story of a group of four people who are struggling in different ways as the credit crunch takes hold. Each of the characters are facing everyday dilemmas and difficulties but are united in the need to make some cash. As events unfold between them, their friendship is compromised by episodes that have comical and sometimes poignant results.
Mel Wright is a community worker in London and has spent four years writing this novel, often from his caravan at Winchelsea Beach, near Hastings. During the course of writing he has been in touch with ex- sales staff from Woolworths, Hastings branch as the final days of the store are featured as part of the story.
The cover image of One Thing and Another ('Watching The Girls Go By') was painted by Fiona Pienkowska, an established artist and printmaker who lives and works in Hastings www.fionapienkowska.com
One Thing and Another – author's comments:
"I hope that people will enjoy the spirit of the characters in my novel. They are finding the recession tough and as they are also rather hapless at times this adds a certain comical dimension to the story. They are all of a certain age, facing unemployment uncertainty wondering whether they can afford to retire. Despite this, their friendship shines through. I have enjoyed the process of writing this story in and around Hastings, a town of which I am very fond."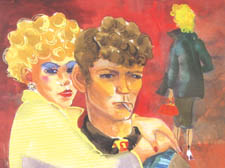 Embracing feral youth of the 50s
A new book tells how a German-speaking teacher attempted to tame rebellious post-war youngsters in north London, writes Peter Gruner

BEYOND THE JIVING
By Mel Wright. Deptford Forum Publishing
BLOOD is flowing and Britain is embroiled in a moral panic with teenage gangs running amok with flick-knives, razors, bicycle chains, knuckle-dusters and bottles.
No, we are not talking about the gang-and-knife-crime-ridden streets of London in 2008. This is post-war 1950s Britain, where disaffected youth were regularly slashing and occasionally killing each other.
A fascinating new book, Beyond the Jiving, by Mel Wright, tells the story of Hampstead artist and radical Margareta Berger-Hamerschlag, who tried to communicate with these often disturbed and alienated teenagers through her work as a teacher.
It was the era of vast London slums and bombsites and homes not fit for heroes; of dandified Teddy Boys dressed in drape jackets, dark shades, and "brothel-creeper" shoes, with hair greased back in a quiff.
These youngsters were the first so-called teenagers, who lived to jive to rock'n'roll. But cross them and they could flick open a knife.
Margareta was an Austrian immigrant and socialist who came to London to escape the Nazis just before the outbreak of war.
As well as exhibiting with the Hampstead Society of Arts she taught painting and drawing to mainly working-class youth in the backstreets of Kilburn and Paddington.
Mel Wright, who researched the life of teacher Margareta, discovered from her own writings, including one published book, that she worked in a blackboard jungle. Her German accent didn't help, so soon after the war, and she faced threats and intimidation from many of her young pupils. In one incident a broken milk bottle was pushed close to her face by an angry young Ted, and she regularly faced intimidation from local gangs.
When she brought in fruit and vegetables for still-life drawing classes she would turn her back and it would be gone. The class mainly slouched about and the girls shrieked with laughter at the boys' dirty jokes.
Troublemakers threw missiles, lit matches, and smeared paint on each other. They stole pencils and rubbers and broke windows. One pupil said he just wanted to join the army and kill people.
But, despite it all, Margareta remained stoical and oozed empathy for her pupils instead of resentment. She described them as "living from day to day, from minute to minute, feeling a grudge against the world that they don't get what is due to them. These misdemeanours are their primitive revenge."
This is a book with many resonances with today. Margareta blamed the education system and its obsession with "brain knowledge" for turning out juvenile delinquents with no stake in society. She wanted to see more priority given to arts and creative expression, which she believed was vital to young people, to give a balance to their lives and provide an antidote to the rising wave of materialism.
Wright says: "Her classes included rowdy, jiving Teddy Boys and girls. They were taken aback by her brave insistence that they widen their view of the world and she got them drawing and painting.
"Most of them fiercely resisted, some begrudgingly conceded and a few flourished."
But despite the sheer frustration, Margareta's most engaging accomplishment was her understanding of these young people and her compassionate and touching interest in them.
"As a result she became their confidante and supporter, listening and learning about their harsh family lives," Mel Wright adds. "Through her diary, writings, drawings and paintings, her work stands as a remarkable and moving social record of working class youth in post-war London."
This short book with illustrations can only give a taste of its subject. Sadly, Margareta died at the age of 56 in 1958. Mel Wright says she has been largely forgotten in the past 50 years and deserves to be rediscovered. She provides understanding of a different more caring way of dealing with the disparate young.
Morning Star 24.9.08
EXHIBITION: Beyond the Jiving
JUDITH AMANTHIS Honor Oak Gallery, London SE23
<![if !vml]>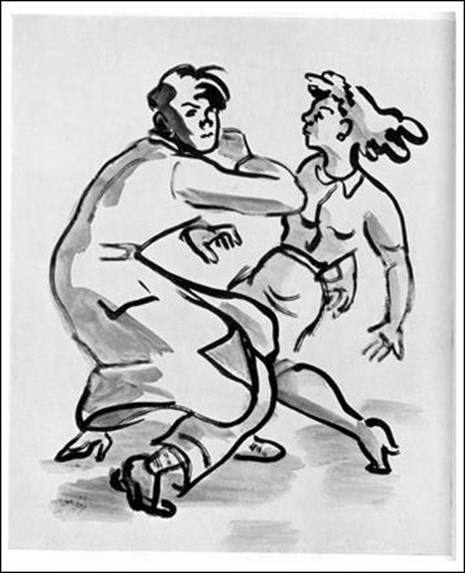 <![endif]>
JUDITH AMANTHIS discovers an Austrian artist who was inspired by working-class youth in 1950s Britain.
GANG culture, knife crime, antisocial dead-end rebellion, zero proper nourishment and problems at home. Britain's working-class youth never had it so bad. It's 1955, the year exiled Austrian artist Margareta Berger-Hamerschlag published her bestseller Journey Into A Fog.
In it, she recounts her frustrations and aspirations teaching art to youth club members in the notorious slums of west London's Paddington and Kilburn, areas where youths are still killing each other today and where immigrants are still being met with hostility by locals and local authorities alike.
Youth workers are still taking on, some by way of art projects, the effects of the poverty and social exclusion that are none of the children's making.
But we have history to jog our memories - in an exhibition at the Honor Oak Gallery in south-east London and an accompanying book by Mel Wright called Beyond The Jiving.
Hamerschlag was born in 1902 in Vienna, learning her sense of social responsibility from her father, a doctor and socialist who practised in poor parts of Vienna.
She was a prodigious artist, working in the company of the new objectivists who were circulating around Vienna's art schools in the 1920s.
New objectivist artists included Otto Dix and Georges Grosz, who painted skewed city perspectives and respectable shirt fronts straining at buttons, which were, in part, a furious critique of the post-World War I German establishment.
Similarly, Hamerschlag's 1920s woodcut series Die Stadt (The City) is populated in deeply scored and gothic black and white by various foreground characters, such as the long-nailed and certainly malicious lady pianist in Das Klavierkonzert, while background factories, tenement blocks, a fashionista's grimace and the desperate leg-splits executed by a night club dancer all waltz crazily away from a fixed point on the horizon.
By now a writer and artist with several exhibitions under her belt, the bohemian Hamerschlag lived with her architect husband in a Viennese artists' community before taking off for Greece, Lebanon and Palestine, where the couple lived and worked until 1936.
They couldn't return to Austria because of the political situation, so they chose London. Joining other exiled German and Austrian artists, they lived in Paddington in relative poverty until Hamerschlag's 1955 bestseller.
Her youth club work had started off as a financial necessity, but rapidly became a source inspiration for her art and writing.
Her diary entries turned into her book and some of her drawings and paintings - she worked compulsively - became the book's illustrations. Surviving the violent Teds scene with her German accent and middle-aged grey hair must have required a lot of inspiration.
She's at her best in her brush and ink wash drawings, some watercolours, in which the boys' and girls' dramas of sex, fights and jiving are so securely composed that you immediately begin to make up the story of what's just happened to provoke this clash of flailing arms and legs or that hand round another's throat.
What happened to the Boy With Pingpong Ball to make him so angry that the flimsy ball is about to crumple in his fist? Is a squaddy's hand grenade or a cowboy's pistol in his imagination?
Hamerschlag's later work picks up on the storytelling suggestiveness of her early work and her capacity to imaginatively heighten her subjects' lives, to compact the most fraught or moving of incidents into a single frame.
An objectivist to the end, at no point does her work turn in on herself.
And she was a progressive educationalist - that beleaguered bunch now taking the flack for Britain's failing school system - who was concerned about these girls' and boys' capacity to observe their world with an open mind and to plunge into life's intricacies with their brains on fire.
After all, once they left the all-white youth club, they may well have been on their way to harass - or worse - their newly arrived Caribbean neighbours.
Hamerschlag's superb draughtsmanship shows best in her watercolour still lifes and landscapes. But she was a humanist and the still lifes just don't move, lacking the fag-in-the corner-of-the-mouth emphasis of her human subjects, the imagination pinging off those shirt front buttons.
Beyond The Jiving - an exhibition of Margareta Berger-Hamerschlag's paintings and drawings, is on now at Honor Oak Gallery, London SE23. Runs until October 18. Phone (020) 8291-6094 for more details.
Beyond the Jiving looks at artist's life
Author Mel Wright's Beyond the Jiving is a fascinating portrait of an artist's life, writes Germaine Arnold.
This study of the life of Margareta Berger-Hamerschlag is a fascinating insight into an artist who has largely been overlooked in the years since her death. In Beyond the Jiving, author Mel Wright has compiled the memoir of the artist to coincide with the 50th anniversary of her death, in the hope of bringing her work to a wider audience The brief but comprehensive book gives a vivid image of Berger-Hamerschlag's life, chronicling her early childhood right through to her untimely death, and features many reproductions of her artwork.
Click here to see the whole article.
Beyond the Jiving is published by Deptford Forum Publishing on Sep 1. An exhibition of Berger-Hamerschlag's work opens at Honor Oak Gallery on Sep 18 to Oct 18. 020 8291 6094.
Deptford Forum Publishing

Eva's Waltz by Mel Wright
- Hot Clubs, Cool Jazz and Eva Braun -
Published September 2006. ISBN 1 898536 12 0 £6.99.
Available from www.Bookseller Crow On The Hill.
Crystal Palace (020 8771 8831)
Lewisham author Mel Wright's second novel for Deptford Forum Publishing is published in September. Eva's Waltz, which has been described as a "wartime romp," is set in Soho and follows the exploits of Polish émigré – dance band drummer, Lenny, and Al, a black GI trumpeter in their passion to play jazz, dodge the bombs and the authorities on their tail. And to top it all, unbeknown to Lenny, Hitler's mistress Eva Braun has taken a liking to a tune that he has recorded.
Ex social worker, Mel Wright is a community development worker across London and author of Rock Around Lewisham, articles about fifties and sixties music and the novel, Be Lucky! He has lived in Lewisham for thirty four years and is also a musician, a drummer – performing since the sixties with blues bands and accompanying American blues legends e.g. Arthur Big Boy Crudup, Juke Boy Bonner, Champion Jack Dupree, Lightnin' Slim, Curtis Jones etc (see www.melwright.co.uk) He currently plays with the celtic mix, south London based, The Flying Chaucers playing events around UK including Glastonbury Festival.
Eva's Waltz – Author's comments:
"Eva's Waltz has been described as a 'wartime romp' with its ducking and diving the Nazi bombs, black market rivalries. It has a strong comic element, although it does have a serious side as well. The waltz, written by Lenny, the protagonist, draws in Eva Braun, Hitler's mistress and members the Nazi inner circle, as well as surprisingly sealing the fate of one character."
"The story is set in 1943, Soho when the American troops and others were arriving for the preparation for invasion of Europe. At the time there was a real melting pot of nationalities in the West End and interest in swing and jazz as the jitterbug dancing took off. People were keen on having fun as well as surviving! The black American GI's were segregated from the whites and certain areas in London were banned to them by the American authorities."

Reader's Comments
Joy Hamillton
"An easy to read book on all the things I love, history of london set during the year 1943 within the community of south london without the cliches.Londoners and immigrants battling for survival with contraband and deals. A jazz band with a mixture, not often addressed, black & white American, Polish, English characters all good There is some sorrow but a lot of courage and plenty of laughs to lift the spirit and cool, cool jazz - the then up and coming music. A great side story/twist is Eva Braun's piece and how the music weaves through both her story and the band in UK. Of course there is romance even for Htler!!
I think the author shows a love of his subject history jazz and a good character building."
Joy Hamillton, Lewisham, November 2006.

Barbara Hearn
" I have read the novel and I have to say I found it gripping. It is not often I feel I cannot put a book down but this one of them. Reading Mel Wright's book added a new angle to my understanding. It is a really interesting take on the social side of the war and what was happening among all the 'other people' that is those who were not fighting and who we often hear so little about. The story weaves its way through the music and mischief of war torn London in a thoroughly engaging manner. The worrying links it makes to the very heart of Nazi Germany add a chill and a thrill. I do hope others get to read it and to support this local author."
October 2006
Yolanda Fossaluzza - a teenager in Soho in 1943
"I rarely read fiction but your book was truly superb, so evocative of my wartime and just after days in Soho and West End, I remember the spivs and wide boys, not all as friendly as Lenny, but it was part of Soho life at the time, very very enjoyable."
October 2006
John Miles review of Be Lucky! and Eva's Waltz. October 2006
Some time around 1920 two very different American writers, Dashiell Hammett and Ernest Hemingway, found that by stripping out description and shielding the author's voice, they could establish a new arena for popular literary fiction. The resulting 'hard-boiled' style established a way of writing about working-class life. In Britain a version of this approach surfaced definitively in the 1960s in the novels of Alan Sillitoe, Bill Naughton, and others. The style made possible the creation of tough, self-interested. working-class protagonists (men) who did not have to be either villains or 'characters' - no longer Bill Sykes, Sam Weller, or any of their successors. Oddly, perhaps, it was left to television to sustain an older tradition of writing about working-class life - although this often operated through the distorting lens of situation comedy, with its relentless construction of aspiration as pretension.
Mel Wright's two novellas, Be Lucky! and Eva's Waltz, are written in this older tradition , although with echoes of current screen drama – the scene in Eva's Waltz where English coppers and US military police dispute their jurisdiction in London could go straight into an episode of Foyle's War. We read these books with a strong awareness of the author as our guide. Mel is a constant presence, a genial observer of the shifting urban environment, keen to set the scene before his characters emerge and take over. The style is affectionate, the result engaging, capturing the rhetoric of pub conversations, small-scale business deals, and awkward romantic assignations with some finesse. Wright, a former social worker, doyen of both community action and musical performance, has an eye both for people who lack confidence in their emotions, and for those – particularly women – whose self-confidence can seem to overflow. In Be Lucky! this enables him to capture with sensitivity and good humour the negotiations of a middle-aged black couple, who may - or may not - be retiring as landlords of a Deptford pub to return to the Caribbean. Beneath the cockney business with which the tale is much concerned Wright pursues with some sharpness both the dilemmas that come with age, and the complexity of realigning oneself in a multi-cultural environment.
Nevertheless, the genre has its weaknesses, and there are points in Be Lucky! when the comic escapades leave the characters undeveloped and the plot going in circles. It was a surprise to learn that Mel's next work would focus not just on London in the Blitz but on the war-time life of Eva Braun. Eva's Waltz is much more ambitious than Be Lucky!, and Wright's concern to constantly set and reset the scene, engage seriously with the direction of half a dozen lives in two countries, while maintaining a larky comedy around the war-time black market, threatens at times to pull the book apart. There are several plot strands, linked by the very different meanings, in London and Nazi Germany, of a waltz tune written by two Jewish brothers from Warsaw. We discover it is a favourite melody of Eva Braun. Lenny, one of its composers, living in London as a refugee, is a jazz drummer. He is besotted with Sonia, a singer from a middle-class background, and becomes a close friend of Al, an aspiring African-American trumpeter. They form a band called 'Bundle of Blues'. Meanwhile, Eva Braun, trapped in the Berghof at the time of Stalingrad and El Alamein, and frustrated at her delayed marriage to Hitler. becomes enamoured of an ambitious SS officer who is engaged to her sister.
In London, Wright struggles initially to separate Lenny and Al from the life around them, a world of spivs, tarts, waitresses, out of work musicians, and anxious families, which he describes like a gentle Hogarth. In Germany, he gets to grips with Braun from the beginning, while, in London, it is not until we learn more about Sonia, struggling with her severely depressed and recently widowed mother, that we get properly engaged. Mel writes very nicely about playing music, and working live gigs, but the evolution of Bundle of Blues, and the hustling needed to sustain it, is not of itself terribly interesting. This emphasis contributes to Al being partially obscured – we see him almost entirely as the vehicle for Lenny's aspirations, prone to endless flirting, or fast asleep at the wrong moment. This is a pity as he is brilliantly introduced in a first chapter, making a nostalgic return visit to London from Chicago with his admiring great-grandson. But this is not really his story – the camera is never quite at the right angle, a point that emerges most sharply when he sits out a night-club brawl between black and white GIs, broken up violently by the military police. The protagonists have nothing to say to each other about the racism that courses through this incident, which makes it strong on period detail, but inert as a vehicle for examining their moral development, and helping us to get to know Al properly.
There's a sense in which the author has simply put in too much. The book takes a sensuous pleasure in what it feels like to play live music. It sets out to evoke the music scene in war-time London, and to examine it as a multi-cultural cross-roads. But then there are three central characters in London, with numerous genre scenes associated with them, and three in Germany. It's interesting that its in Germany, where neither the comedy business nor the scene-setting predominates, that a more linear narrative, with greater emotional depth, has room to emerge. Hopefully, in his next book, Mel will bring all this back home.
October 2006
Be lucky!
"Mel Wright's eye for the details of everyday life, illuminate an engaging tale. It is of course a shrewd device to centre his vignettes on the pub – he can make anyone he wants to walk through the door and enliven the action. Race-page addicts, market traders, dodgy dealers, brassy women and weirdos like Pyjama Man Terry, who gets ready for bed before his evening pint, develop the narrative and Wright throws in a touching love story as well".
The Guide, John Collis – May 2003
"Alcoholism, anger management, loneliness, pensioner poverty, racism:
the problems customers can brew up in a pub with a shouty street market on the doorstep are enough to fill a social worker's week. Mel Wright has been a social worker for more than 20 years in parts of east and south east London, and his encounters with the regulars who use such pubs have ended up in a book; not a manual – but, more fun, a novel. So Wright raises two cheers for old-fashioned local pubs. But let us give a third cheer for Deptford Forum Publishing, which took up his book after literary houses turned up their noses."
The Guardian,
John Cunningham
–Society.29.4.03

Here some vintage blues from the BBC's "Sounds Of The Sixties" with some archive photos of Mel's.
<![if !vml]>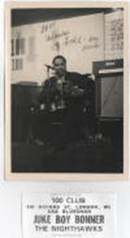 <![endif]>Click Here to listen

Desmond Dekker – South London's King of Ska.
<![if !vml]>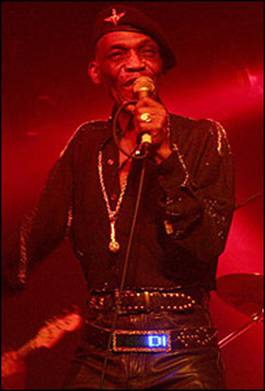 <![endif]>
Mel Wright celebrates 40th Anniversary of Desmond Dekker's first UK chart hit.
"Get up in the mornin' slavin for bread, sir, so that every mouth can be fed." You only have to hear Desmond Dekker's falsetto, crooning patois opening line of The Israelites, his 1969 hit, to feel like dancing to the infectious reggae rhythm. Well before Bob Marley and the Wailers, and The Maytals made an impression on UK music scene, Desmond Dekker, born in Jamaica, 1942, Desmond Adolphus Dacres became a pioneer of reggae in UK, a style that would change popular music culture across the world. He was even referred to by name in The Beatles Ska influenced song Ob La Di, Ob La Da. And he lived in Lewisham!
Dekker originated from Kingston, Jamaica but he moved home to St Thomas area as a child when his mother died. After leaving school he was apprenticed as a tailor before returning to Kingston and becoming a welder which is when he took up singing seriously. Despite failing auditions with the infamous Jamaican record labels Studio One and Treasure Isle, the young Desmond was encouraged by singer Derrick Morgan and signed up by Leslie Kong of Beverly records who became a close friend and mentor. Named Desmond Dekker, in 1963 he recorded Honor Your Father and Mother and other songs before having a big hit in Jamaica with King of Ska which also led to the forming of his band, The Four Aces.
In July 1967 while British pop music was full of flower power, Dekker scored his first UK hit, the James Bond inspired 007 (Shanty Town) which reached No.14. But it was The Israelites in 1969 which he wrote and made him an international star. The record was the first reggae song to top UK charts. He toured Britain with The Aces and enjoyed the place so much he stayed! Settling in Lewisham, he lived in Leyland Road, Lee area. People noticed his dapper appearance strolling around Lewisham Market, leather pants and big rings on his gloved hands. He also played at The Albany in Deptford. He had a strong following in UK and although he had an on-stage gregarious style, according to his close friend and later manager, Delroy Williams at home he was a very private person.
Desmond's music connected with the emerging rude boy trend as well as skinheads of whom he became an icon. His follow up record, "It Miek" became another top ten hit as did "You Can Get It If You Really Want", taken from the Jimmy Cliff film. Shortly after, Dekker was shaken by the sudden death of his record producer friend, Leslie Kong and later on, despite his hits and busy touring schedule, financial problems caused by his earlier poor management led to Desmond being declared bankrupt. However his career was revived in the Eighties with the Two Tone revival and bands like, Madness, Bad Manners, UB 40 and The Specials who appeared on Dekker's album King of Kings.
Desmond Dekker continued to live at Devonshire Road, Forest Hill during Eighties and Nineties, still cutting a stylish local figure, wearing trousers cut high up the leg before they became fashionable. He cared about people in the area. In 2001 a local fan, Leroy Auguste was seriously ill in Lewisham Hospital after suffering a brain haemorrhage he was unable to speak. After being approached by the family Desmond called in on him and sang The Israelites by his bedside. It helped him to recover.
Finally, moving to Thornton Heath, Desmond died unexpectedly of a heart attack at his home on 25th May 2006. He was aged sixty four and still much in demand with a European tour lined up for that summer. Desmond Dekker paved the way for reggae music in UK and undoubtedly influenced many other Lewisham based performers including Mica Paris, Maxi Priest, Winston Groovey and Eddie Capone.
After Desmond's death last year, The Mercury received many tributes to the reggae legend and Lewisham residents have suggested that a plaque be made to commemorate him and be placed outside his home in Devonshire Road, Forest Hill. Let's hope it happens soon.

Spike Milligan – the jazz years
<![if !vml]>

<![endif]>
Spike Milligan, the genius behind the 50's radio show the Goons, creator of much loved characters Neddie Seagoon, Eccles and Bluebottle, (and a towering influence over all innovative British comedy since, from Monty python onwards) spent his teenage years in Lewisham in a succession of dead-end jobs and playing jazz trumpet with various dance bands. It is interesting to speculate how much these experiences contributed to his sense of the absurd and zany view of life that informed so much of his later writing. A nostalgic streak runs through much of it, including references to our local area of which he once described, "Brockley, Land of my dreams!"
Spike, Terry Milligan was born in India. In 1933 the family came to UK settling in Lewisham when he was twelve years old. Spike's father had lost his post in Rangoon, Burma serving in the British Army. Their life in south east Asia was comfortable and they had servants but on the family's return they lived in Honor Oak and then Catford with a significant drop in their standard of living.
Spike went to school in Brownhill Road, Catford and later St Saviours School in Lewisham High Road. After a short spell at college in Woolwich he began work at fifteen as a clerk at Stones Engineering in Deptford for fifteen shillings a week. It was here that he met his first girlfriend, Nina Hall and after listening to jazz records at her home he became so besotted with the voice of crooner Bing Crosby that he was inspired to sing at local dances. With Nina's encouragement he dressed up to the nines, splashed Brylcream on his hair to sang Temptation at the old Ladywell swimming baths and East of the Sun & West of the Moon at Lewisham Hippodrome where he won a talent competition.
At the height of the big band popularity and his exposure to jazz, Spike's local success spurred him on. He signed up for music lessons at Goldsmiths College in New Cross and took up the double bass, guitar, and piano before settling on the trumpet. Again, Nina helped out and bought him an instrument which he quickly mastered. Dreaming of stardom, Spike's unconventional lifestyle caused his parents concern after he got the sack from Stones and drifted from job to job. These included a laundry at Chislehurst and as a packer for Spiers & Ponds a local tobacco wholesaler where he was caught pocketing packets of cigarettes to sell in order to buy a better trumpet. Spike was arrested and charged with theft. His father spoke up for him in court and he was given an unconditional discharge. In the meantime he had bought himself a new gold plated trumpet for £25 from Len Stiles music shop in Lewisham High Road.
With his passion for jazz, Spike was spotted by bandleaders of local jazz bands. Tommy Brettell's New Ritz Revels who he described as "a bunch of spotty musicians held together with hair oil," The New Era Rhythm Boys, Bill Hall Trio and sometimes Spike promoted himself as Terry Milligan, the Wild Man of the Harlem Club Band! These ensembles played a variety of south London dance halls including St Cyprians Hall, Brockley and Lady Florence Institute, Deptford. It's not hard to imagine how the humour on gigs and the art of improvisation were all good grounding for Spike's later career in comedy. As the Thirties turned into the war years, Spike was called up for the army and left the area to be stationed in Bexhill On Sea, immortalised in his hilarious memoirs, 'Hitler My Part In His Downfall,' made into a film.
Spike always remained affectionate about his years living in Lewisham and kept in touch with some of his local friends from this era.
Send in your own comments or a review to The Editor