 Over 40 years experience within the IT Industry in Systems Analysis, Development Project Management and Service Management.
 Freelance IT Consultant – Web site design, support and education services for personal, community groups and adult leaning.
 Service Management including ITIL based disciplines: Incident; Problem; Change; Configuration and Release.
 Very strong structured analysis and design skills.
 Over 20 years' experience in application development and SQL Database design.
 Extensive experience in managing the quality and best practice in delivering application services, maintaining in-house methodologies, program development and service delivery standards.


Bassist, Guitarist, Recording Production
Have played in many bands since the early 1960s.
Styles are many and varied including: Blues, R&B, Folk, Jazz, Pop, Rock.
Favourite period is 1966 - 1975 so most styles reflect the influences of bands at that time. Main influences are Muddy Waters, Chuck Berry, John Lee Hooker, The Beatles, Rolling Stones, John Mayall, Cream, Frank Zapper, All the artists on Stax. Too many to list, but you get the general idea.
To discover more about the bands I have played in click on the Bands tab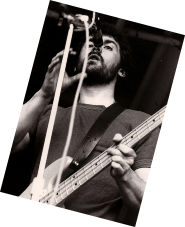 I have been taking pictures since the late 1950's
Interests include Landscape, Macro, Events. I particularly like to capture unusual shapes and unexpected or found objects and viewpoints.
I started processing black and white in the early 1970's and spent many hours locked in my darkroom. Once my main full time IT career kicked in I had to abandon the darkroom and concentrate my efforts elsewhere. Still taking photos but without any post camera work. I have been taking digital photographs since 1999.
Check my Flickr Gallery for a preview of some recent work.